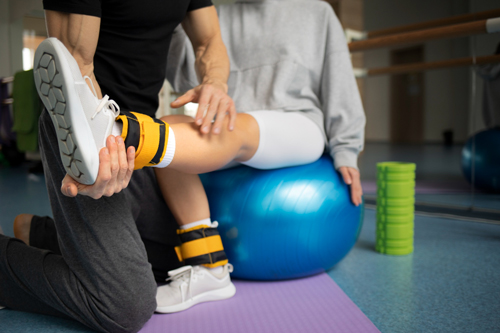 The interest and concern of the Physiotherapy Department is focused on one thing only: it is you – our patient. We want to get you back to your normal activities as soon as possible. This is why we use all our expertise in prescribing treatments and therapeutic approaches that have been formulated specifically for your case. Our services include both outpatient and inpatient services. We will assess your specific needs and develop the qualification program to suit it.
Our team of experts and therapists are adapted to work under conditions and with all conditions, including neuromuscular conditions, bone diseases, lung and heart diseases, and blood disorders. And I continued treatment procedures for this, than before. We always seek patients who seek their services, who suffer from temporary or permanent impairments, to regain the ability to lead an independent and dignified life.
The Physiotherapy Department at Abdul Rahman Al-Mashary Hospital also benefits from its close association with consultants, radiologists and nurses to ensure effective communication and analysis of your case, so that they determine the goal of treatment plans. We also use the latest technology and fitness equipment to improve all of our programs.
Your well-being resides in an environment that respects you and your dignity. We are committed to improving the health and lives of all of our patients.
We can get you to draw us in one match in one match show.
Physiotherapists are licensed physiotherapists.
The department's doctors are being added, please visit later