Skin diseases are a growing problem in our society with inflammatory diseases such as eczema and psoriasis being the most common and which, without proper treatment, can lead to severe disability. Skin cancer has also increased progressively in the last four decades and is now the ninth most common cancer in the Kingdom.
Our dermatology department provides a variety of outpatient services including clinics, skin surgery and phototherapy. We offer diagnosis and treatment of skin conditions such as acne, eczema, skin allergies and a broad spectrum of skin disorders for both adult and paediatric patients.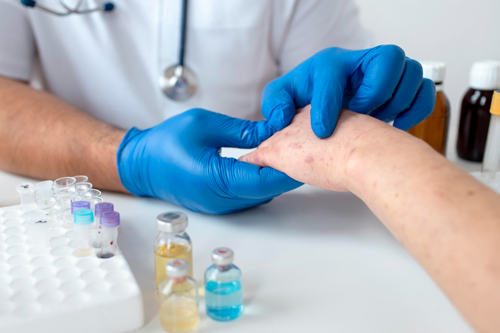 Our highly trained team of dermatologists and specialist nurses also provide a rapid diagnosis and treatment service for adult patients with suspicious moles or melanoma skin cancer. Patch testing is also available for individuals suspected of having allergic contact dermatitis or atopic dermatitis.
At AMH, you can be assured that we deliver high quality and cost-effective care in a perfectly safe and comfortable environment.  We always put our patient first in everything we do.
We hope and pray that you and your family enjoy the best of health throughout your life.
 Should you wish to make an appointment with us please do so through the Call Center or, if you prefer, contact us via the website or simply visit the hospital where one of our staff will be delighted to accompany you to our clinic.